Ductless AC Installations in Mesa, AZ
Expert Ductless AC Installation Services
At Comfort Experts, we have the perfect solution for your cooling needs, whether you want to upgrade your current system or require a brand-new installation. Ductless ACs are an excellent option for Arizona homeowners because they can provide targeted cooling to individual rooms or zones. This precision allows for precise temperature control and increased energy efficiency, significantly reducing your utility bills. Ductless systems also eliminate the need for extensive ductwork, making installations easier, quicker, and less invasive. Don't wait any longer to enjoy the benefits of a ductless AC system. Contact Comfort Experts today to schedule a consultation and take the first step towards a cooler, more comfortable living or working environment.
Free in-home estimates
Customized financing options
Fair and competitive pricing
On this page
Service Details
Ductless AC installations made to last at honest prices you'll love
When you choose Comfort Experts for your ductless AC installation, get ready for an unparalleled experience. We truly value your time, which is why we offer faster response times on estimates, ensuring that you receive the information you need promptly. What's more, we provide excellent deals on financing options for ductless AC systems, giving you the flexibility and affordability you deserve when selecting your new system. With multiple options available, you have the freedom to choose the AC brand and model that perfectly aligns with your preferences and budget.
We understand the importance of peace of mind, which is why all our installations come with an unbeatable 2-year labor warranty. We have complete confidence in the quality of our work, and we are certain that you will be satisfied with the results. In fact, we back it up with our 100% Satisfaction Guarantee. Your happiness and comfort are our utmost priorities, and we are fully committed to delivering exceptional service that goes above and beyond your expectations. Choose Comfort Experts for your ductless AC installation and experience service that is truly unmatched.
Price
What factors affect the cost of your ductless AC installation?
The number of indoor units: The number of indoor units required for your ductless AC system will impact the cost. Each unit provides cooling to a specific zone or room, so the more units needed to cool your space effectively, the higher the price may be.
System capacity: The cooling capacity of the ductless AC system is determined by factors such as the size of the space and the desired temperature. Larger rooms or areas with higher cooling demands may require higher-capacity units, increasing the cost.
Installation complexity: The complexity of the installation process can affect the cost. Factors such as the accessibility of the installation area, the need for additional electrical work, and any necessary structural modifications can impact the overall installation cost.
Brand and model: Different brands and models of ductless AC systems vary in price. Higher-end brands or models with advanced features may come at a higher cost than more basic options. The brand reputation, warranty coverage, and energy efficiency ratings can also affect the price.
Additional features: Optional features or add-ons, such as smart thermostats, multi-zone control, or air purification systems, can increase the overall cost of the ductless AC installation.
Get a FREE estimate or second opinion on your upcoming ductless AC replacement
We'll send a licensed expert to your home for a complimentary, no-obligation in-home estimate. They'll introduce you to ductless AC systems that best suit your comfort requirements. They'll also share information about all available rebates, energy tax credits, and our exclusive financing options.
Schedule Estimate
Process
Here's what a ductless AC installation looks like with Comfort Experts
Experience a No-Obligation FREE Estimate or Second Opinion

At Comfort Experts, we prioritize your peace of mind and comfort above all else. That's why we offer complimentary estimates and second opinions. During the estimate process, our experts assess your home and existing AC system to determine the appropriate size. We then discuss options that best align with your comfort and budget requirements. Rest assured, there are no obligations– we're here to provide you with valuable insights and recommendations.

Get the Best Deal on Your New System

Paying full price for a new system? Not on our watch. At Comfort Experts, we closely monitor SRP and manufacturer rebates that frequently become available. Moreover, we regularly offer installation specials that provide additional cost savings. Financing options are also available, allowing you to pay as little as 0% down for a set period of months. We are committed to finding the best deals possible, ensuring you get the most value for your investment.

Experience Ductless AC Installations at the Highest Professional Standards

Respecting your time, home, and hard-earned money is at the core of our approach at Comfort Experts. That's why we go above and beyond to ensure that your ductless AC installation meets the highest industry standards. Our installation teams undergo rigorous training and manufacturer classes to ensure no detail is overlooked. We take great care in protecting your home by laying down drop cloths and ensuring a thorough cleanup before we leave. When you choose Comfort Experts, you can expect nothing but the best installation experience available in the Valley.

Enjoy the Best Post-Installation Warranties in Phoenix

When you choose Comfort Experts for your ductless AC installation, you receive peace of mind through our comprehensive warranties. All ductless AC installations come with a standard two-year labor warranty in addition to any part warranties offered by the manufacturer. Furthermore, our commitment to your satisfaction is backed by our 100% Satisfaction Warranty. If any issues arise after our departure, simply call our team, and we will promptly return to resolve the matter to your complete satisfaction. Your comfort and peace of mind are our top priorities, even after the installation is complete.
Schedule Ductless AC Install
Customer Testimonial
Hands down the GREATEST experience I've ever had with an HVAC company...
"Hands down the GREATEST experience I've ever had with an HVAC company in 25 years in Arizona. Ryan was extremely helpful, responsive, and professional. His team came out to replace one of the dinosaur units on my roof that went out on me. They were so respectful and professional and went above and beyond. At one point, one of the vents in my house wasn't working, so one of the team members basically army crawled through spray insulation in my attic to fix it. Mind you, it's blistering hot up there. They also fixed the draining on my other unit without me having to ask because he saw it leaking. Top notch!!! Comfort Experts will forever be my go to from here on out!! Thanks again!"

—Steven L. | Phoenix
See why we're rated 4.9 out of 5 on Google.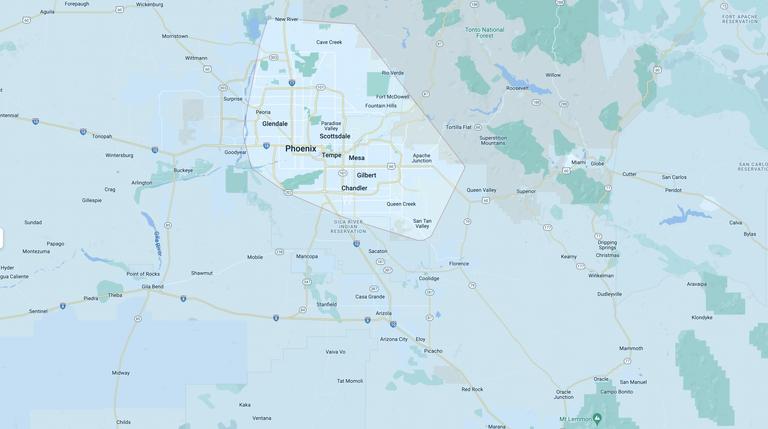 Service Area
Serving Phoenix's East and West Valleys Since 2011
Comfort Experts has offices in Mesa, AZ, and Gilbert, AZ, and assists customers across the entire Valley of the Sun. We're open Monday through Saturday, from 7:00 AM to 7:00 PM. Don't hesitate to call us if you're having a heating or cooling emergency outside of office hours.
We service these cities in Phoenix and others close by:

See our service area
Ready to Schedule Your Free Estimate with Comfort Experts?