Heat Pump Installation in Phoenix, AZ
Call Comfort Experts for a Free Heat Pump Estimate or Second Opinion
Is your aging heat pump due for an upgrade? Reach out to Comfort Experts today, and we'll send a NATE-certified professional to your home to accurately size your new system and offer a variety of replacement options, at no cost to you. We'll even help you apply for any available SRP rebates and assist with a financing plan if you're looking for one.
Free in-home estimates
Customized financing options
Fair and competitive pricing
On this page
Service Details
Heat pump installations made to last at honest prices you'll love
When you select Comfort Experts for your heat pump installation, you'll experience a superior level of service that surpasses the competition. We consistently go the extra mile for our customers by providing faster estimate response times, appealing financing options, and a wide array of system options to choose from. Our installers leave nothing to chance with your new heat pump, and we'll always leave your home cleaner than how we found it. Furthermore, all installations come with an unbeatable 2-year labor warranty and a 100% Satisfaction Guarantee, so you'll always enjoy peace of mind when you choose Comfort Experts.
Price
What factors affect the cost of your heat pump installation?
System efficiency: Homeowners can save hundreds of dollars on energy bills annually by switching to a higher-efficiency heat pump system. Just remember that as efficiency goes up, so does a system's cost. Comfort Experts is committed to helping you find a balance between budget and efficiency by presenting a variety of systems.
System size: The size of a heat pump determines its cooling and heating capacity, as well as the number of rooms it can effectively cool or heat. An improperly sized heat pump can negatively impact energy bills and system longevity. This is why a Comfort Experts installer will always assess your home before selecting the most suitable heat pump size.
Rebates & incentives: You shouldn't have to pay full price for a new heat pump. Stay on the lookout for rebates, deals, and specials, particularly for heat pumps, as their eco-friendliness and increased energy efficiency often attract state and federal government incentives. Don't hesitate to check our specials page periodically or give us a call. If we know about any manufacturer or energy rebates, we'll ensure you're informed.
Get a FREE estimate or second opinion on your upcoming heat pump replacement
We'll send a licensed expert to your home for a complimentary, no-obligation in-home estimate. They'll introduce you to heat pumps that best align with your comfort requirements. They'll also share information about all available rebates, energy tax credits, and our exclusive financing options.
Schedule estimate
Process
Here's what a heat pump installation looks like with Comfort Experts
You'll enjoy a no-obligation FREE estimate or second opinion

Comfort Experts prioritizes customer satisfaction above all else, which is why we provide free estimates and unbiased advice on new heat pump systems to our customers. Our experts assess your home and existing heat pump to accurately determine ideal size, then suggest suitable options that cater to your comfort requirements and budget constraints.

You'll get the best deal possible on a new system

With Comfort Experts in your corner, you'll never have to worry about paying full price for a new heat pump. We help you take advantage of energy and manufacturer rebates when available. And we'll let you know when we have specials going on as well. Our financing options often include low or even 0% down payments for a specified duration, ensuring you get the best possible deal.

You'll receive a heat pump installation at the highest professionals standards

We value your time and home at Comfort Experts, and we know that the investment you're making on a new heat pump is a big deal. Our installation process adheres to the highest industry standards, with our team members receiving comprehensive training from manufacturers. To protect your home, we use drop cloths around our work area and clean up before departing, offering an unparalleled installation experience that nobody else in the Valley can match.

You'll enjoy the best post-installation warranties in Phoenix

When you choose Comfort Experts for heat pump installations, you'll benefit from a standard two-year labor warranty, in addition to any manufacturer-provided part warranties. Our 100% Satisfaction Warranty further safeguards your investment; if any issues arise after installation, our team will promptly return and resolve them.
Request service online
Customer Testimonial
I can with confidence recommend this company...
"We installed a new heat pump last May. We ended up with 7 bids. We usually do 5, but 2 of the bidders either didn't know their stuff, or were deliberately deceiving. We chose Ryan and Comfort Experts although they were not the lowest bid. Lowest isn't necessarily best. Why wait to rate? Because even if the service is great (it was) we wanted one hot test (August) and one cold test (January) under our belt to ensure the equipment worked well (it does). So I can with confidence recommend this company, striking a home run on Value, Service, Low Sale Pressure, Timeliness, Cleanliness and all else associated. Thank you Ryan & gang."

—Rita D. | Phoenix
See why we're rated 4.9 out of 5 on Google.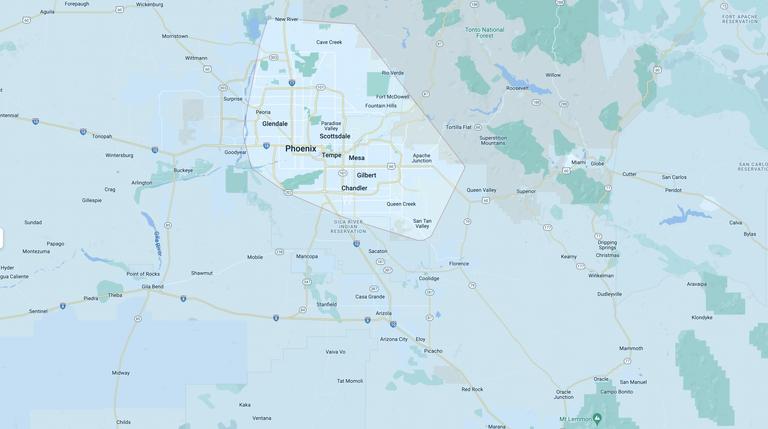 Service Area
Serving Phoenix's East and West Valleys Since 2011
Comfort Experts has offices in Mesa, AZ, and Gilbert, AZ, and assists customers across the entire Valley of the Sun. We're open Monday through Saturday, from 7:00 AM to 7:00 PM. Don't hesitate to call us if you're having a heating or cooling emergency outside of office hours.
We service these cities in Phoenix and others close by:

See our service area
Ready to Schedule Your Free Estimate with Comfort Experts?