Heat Pump Repair in Mesa, AZ
Fair Value and Fast Service for All Your Heat Pump Repair Needs
Heat pump giving you trouble? Comfort Experts resolves the vast majority of heat pump repairs in just one visit to your home. And our response times are some of the fastest in the city. We look out for our customers by promising fair prices on replacement parts, unbeatable warranties on repairs, and upfront, fixed-price quotes. We'll even waive your diagnostic when you repair with us!
Diagnostic fee waived with repair
Convenient same-day service
2-year workmanship warranty
On this page
Service Details
Professional heat pump repairs at honest and affordable prices
Comfort Experts has been providing exceptional heat pump repairs for our customers in Phoenix for over a decade. And that experience shows in the quality of our repairs, the value we bring to each job, and the reviews we receive from satisfied homeowners. We guarantee same-day service for all heat pump brands and models and aim to offer added value through extended warranties, highly-skilled technicians, and increased service hours. If your heat pump goes down in the dead of night, you can rest assured we'll be there to help.
Price
What factors affect the cost of your heat pump repair?
What factors affect the cost of your heat pump repair?
Replacement parts: One of the most common reasons a heat pump stops working is a broken part. Finding the culprit is what a diagnostic is all about. Only once the diagnostic is complete can we pinpoint the part in question, and more importantly, whether it can be repaired, or whether it needs a replacement. At Comfort Experts, we'll always try to repair a part first to save you as much money as possible.
Warranty status: Your heat pump might be secured by a parts warranty, a labor warranty, or both. These warranties prevent homeowners from shouldering repair expenses, providing significant benefits. Unsure about your coverage? Don't stress. We can find out for you.
Choice of contractor: The cost of heat pump repairs can differ based on a contractor's skill set, experience, and other factors. Selecting the most cost-effective service provider may seem attractive at first, but it can lead to complications later on. A licensed contractor like Comfort Experts is typically the smarter choice, ensuring a top-quality repair at the best possible value.
Repair your heat pump with Comfort Experts and the price of your diagnostic is FREE.
The diagnostic is the first step toward uncovering what's wrong with your heat pump. At Comfort Experts, that diagnostic visit costs just $69.99. That's on the lower end of diagnostic fees within the industry. But to add even more value to your repair, we'll waive the diagnostic charge completely when you resolve your repair with us.
Schedule repair
Process
Here's what a heat pump repair looks like with Comfort Experts
You'll receive a professional diagnostic by a licensed technician

Scheduling a repair diagnostic with Comfort Experts is simple: either book online or give us a call. After confirming your appointment, you can anticipate the technician's arrival within a 4-hour window. They'll even send text notifications to keep you updated on their progress. Upon arrival, your technician will conduct a comprehensive diagnostic of your heat pump to identify the root of the problem.

You'll get the best deal possible on your repair

We prioritize cost-saving measures when repairing your heat pump. If a component can be fixed instead of replaced, we'll do so to minimize expenses. Should the repair cost become too high, we can offer financing options. Furthermore, we'll waive the diagnostic fee if you proceed with the repair, and we'll never attempt to sell you a part you don't need.

You'll receive a heat pump repair at the highest professionals standards

Our technicians are dedicated to providing homeowners with trustworthy heat pump repairs. All of our professionals are licensed and trained to work on a huge assortment of heat pump brands and models. They also rigorously test each repair to ensure its quality. To protect your home, they take precautions such as placing drop cloths around the work area. And they'll always tidy up their work area before they leave.

You'll enjoy the best post-repair warranties in Phoenix

Comfort Experts boasts some of the best first-time fix rates for heat pumps among Phoenix contractors. This gives us plenty of confidence to provide some very generous labor warranties. Up to 2 years on repairs, in fact! Moreover, our 100% Satisfaction Guarantee covers nearly all other aspects of your repair, providing you with additional peace of mind.
Request service online
Customer Testimonial
Trusted them for several years and they have delivered every time.
"Amazing service you can trust. I have trusted them for several years and they have delivered every time. They are honest and repair what needs to be fixed without trying to upsell. I recommend saving their number in your phone as I have! Thanks for the amazing service."

—Christopher T. | Phoenix
See why we're rated 4.9 out of 5 on Google.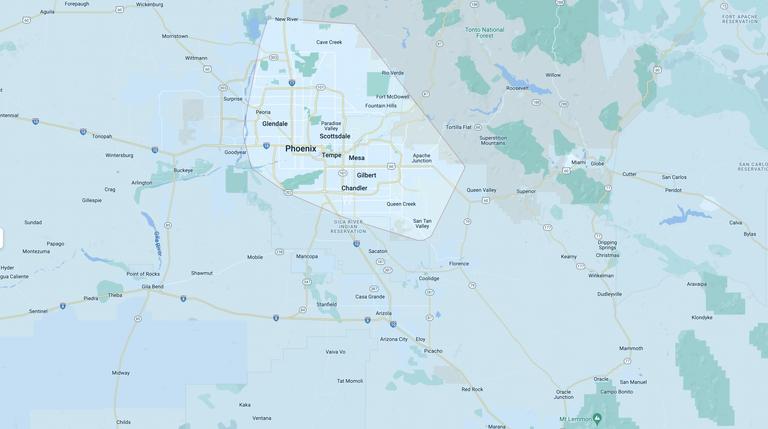 Service Area
Serving Phoenix's East and West Valleys Since 2011
Comfort Experts has offices in Mesa, AZ, and Gilbert, AZ, and assists customers across the entire Valley of the Sun. We're open Monday through Saturday, from 7:00 AM to 7:00 PM. Don't hesitate to call us if you're having a heating or cooling emergency outside of office hours.
We service these cities in Phoenix and others close by:

See our service area
Request a Heat Pump Repair Diagnostic with Comfort Experts Today.