Air Duct Repairs and Replacements in Phoenix, AZ
Top‑Quality Air Duct Repair and Replacement Services in Phoenix, AZ
At Comfort Experts, we understand the importance of having a well-functioning HVAC system in the hot Arizona climate. If you're experiencing issues with your ductwork, we're here to help. Our team of experienced professionals specializes in air duct repair and replacement services, using top-of-the-line equipment and techniques to ensure your home or business stays cool and comfortable all year round.
Free in-home estimates
Customized financing options
Fair and competitive pricing
On this page
Service Details
Say Goodbye to Duct Issues: Trust Comfort Experts for Fast, Effective Repairs and Replacements
HVAC systems rely on ducts to circulate conditioned air. Unfortunately, in many cases, up to 30% of the air moving through the ductwork can be lost due to leaks, holes, or poorly connected ducts, resulting in higher energy bills and difficulty maintaining a comfortable temperature, no matter how you adjust the thermostat. At Comfort Experts, we offer reliable and affordable air duct repair and replacement services in Phoenix, AZ. Our skilled and experienced ductwork specialists can identify and resolve any issues with your ducts, ensuring optimal airflow and temperature control throughout your home or business.
We value transparency and offer upfront pricing with no hidden fees or surprises. With a satisfaction guarantee, you can trust that we're committed to providing you with the highest quality service. Contact us today to schedule your appointment and experience the Comfort Experts difference.
Price
What factors affect the cost of your air duct repair or replacement?
The size of your home: The larger your home, the more ductwork will be required to cover the entire space, and the more complex the job can be. This can increase the cost of repair or replacement.
The extent of the damage: The severity of the damage to your ductwork can impact the complexity and cost of repairs or replacement. Minor wear, like small leaks or holes, may be relatively easy and inexpensive to fix, while significant damage, like extensive leaks or damaged ductwork, may require complete replacement.
The type of ductwork: The type of ductwork you have can also impact the cost. For example, if your home has flexible ducts made of plastic and fiberglass, these are typically less expensive to repair or replace than rigid metal ducts.
Accessibility: In some cases, additional equipment or labor may be needed to reach ductwork that's in a difficult-to-access location, such as a tight crawl space or attic. In this case, it will likely cost more to complete the repair or replacement.
Additional services: Depending on your specific needs, you may require additional services such as duct cleaning or insulation. These services can help improve the performance of your HVAC system and reduce energy costs, but they will also add to the project's overall cost.
Repair your air ducts with Comfort Experts, and the price of your diagnostic is FREE.
A diagnostic is the first step toward uncovering an issue with your air ducts. At Comfort Experts, our diagnostic visit costs just $69.99. That's on the lower end of diagnostic fees within the industry. But to add more value to your repair, we'll waive the diagnostic charge altogether when you resolve your repair with us.
Schedule Repair
Process
Here's what a duct repair looks like with Comfort Experts:
You'll receive a professional diagnostic by a licensed technician.

If you're encountering uneven temperatures in your home, sudden spikes in energy bills, or unpleasant odors coming from your air vents, you may need duct repairs. Not to worry! You can request a repair diagnostic with Comfort Experts in two ways: online or over the phone. Once your appointment is confirmed, you can expect your technician to arrive within the expected 4-hour window. They'll even provide text notifications letting you know they're on the way. Once there, your technician will get to the root of the issue after performing a thorough inspection of your duct system.

You'll get the best deal possible on your repair.

Before we repair or replace your air ducts, we'll look for ways to save you money. If we're able to repair a part instead of replacing it, we'll make that happen for you. If the cost of your repair gets a bit steep, we can help you find a way to finance it. If you complete the repair with us, we'll waive your diagnostic fee. And we'll never, ever try to sell you a part you don't need.

You'll receive a duct repair at the highest professional standards.

Very few technicians work as hard as ours do to give homeowners a reliable duct repair. We also take precautionary steps to protect your home, such as laying down drop cloths around the work site and cleaning up after ourselves before we leave.

You'll enjoy the best post-repair warranties in Phoenix.

Comfort Experts has some of the most reliable first-time fix rates on duct systems of any contractor in Phoenix. We're confident that we can offer our customers labor warranties that last far longer than average. In fact, we offer labor warranties of up to 2 years on repairs! And that doesn't even include our 100% Satisfaction Guarantee, which covers just about everything else involving your repair.
Schedule Duct Repair
Customer Testimonial
Comfort Experts is the best HVAC company in Phoenix and I highly recommend them.
"Comfort Experts is the best HVAC company in Phoenix and I highly recommend them. I needed my air conditioning unit replaced and Ryan Mikita came out to my house and gave me a free estimate. I got quotes from several other companies and CE offered the most at the best price. Ryan was very professional and helped me find the best unit for my house. He was straight-forward and honest. Installation went smoothly and the installation technicians were fantastic. They even took the time to balance the air flow in my house and resolved an issue from the past contractor. The technicians went above and beyond to help us. They have offered to come back as many times as needed to ensure my HVAC system works as intended. Thank you, Comfort Experts for the great experience. I will be sure to use you again."

—Dean M. | Phoenix homeowner
See why we're rated 4.9 out of 5 on Google.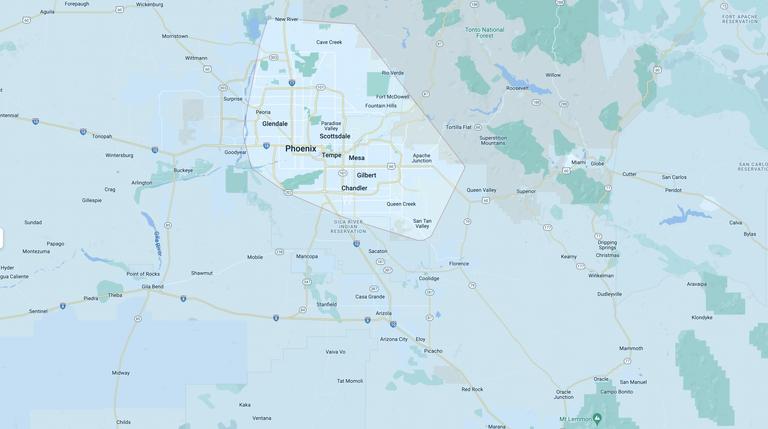 Service Area
Serving Phoenix's East and West Valleys Since 2011
Comfort Experts has offices in Mesa, AZ, and Gilbert, AZ, and assists customers across the entire Valley of the Sun. We're open Monday through Saturday, from 7:00 AM to 7:00 PM. Don't hesitate to call us if you're having a heating or cooling emergency outside of office hours.
We service these cities in Phoenix and others close by:

See our service area
Request a Duct Repair or Replacement Diagnostic with Comfort Experts Today.