Heating Maintenance & Tune-Ups In Mesa, Arizona
Fast, Reliable Heating Tune‑Up Service in Mesa, Arizona
Need help maintaining your furnace? Call Comfort Experts to inspect your unit, test your thermostat, and ensure your ductwork lets air flow smoothly into your home. We offer free in-home estimates with fair and competitive pricing, and our customized financing options enable furnace repairs and replacements on any budget.
Free in-home estimates
Customized financing options
Fair and competitive pricing
On this page
Service Details
Take Control of Your Heating System With Regular Furnace Tune‑Ups from Comfort Systems
Maintaining your heating system is crucial. Over time, all systems, including your furnace, face wear and tear. Addressing minor issues promptly can prevent them from escalating into significant and expensive problems. Moreover, an older system without consistent maintenance may not run at its best, leading to higher energy expenses.
Trust the expertise of NATE-certified professionals at Comfort Experts in Mesa, Arizona. As a locally-owned HVAC business with an A+ BBB rating and over 100 five-star reviews, we guarantee top-notch service. Reach out to us today for your furnace tune-up and experience the exceptional service that distinguishes Comfort Experts from others.
Price
What factors affect the cost of your heating tune-up?
Several factors go into pricing for heating tune-up services. Some of these include:
Number of units: If your home has more than one unit, your heating system tune-up may cost a little more due to labor costs. Likewise, the more units you have, the more likely you will require repairs, especially if you're already noticing issues.
Unit condition: Older units or those in poor repair may require more extensive work, which can drive up costs for your heating tune-up. On the flip side, newer units typically require less work, which may keep pricing lower for the service.
Type of unit: Different heating systems have varied requirements — and associated costs! — depending on whether the unit uses propane, natural gas, or an electrical power source. You're also likely to see pricing change depending on whether you have a furnace, boiler, heat pump, or HVAC system.
Accessibility: Believe it or not, where your unit is affects how much your heating tune-up costs. HVAC units and furnaces located in hard-to-get-to locations or those with hazards along the way require more effort and risk for technicians, so most heating tune-up companies price these services accordingly.
Filter replacements: Another factor that goes into pricing for a heating tune-up is the cost of filter replacements. While many homes do well with air filters with lower MERV ratings that just remove the basics like pollen and dust, others require options that remove more allergens and even bacteria from the air during operation.
Get Your Unit Ready for Winter in Mesa, Arizona, with a Heating Tune-Up from Comfort Systems
Prepare for cold weather with help from the licensed, bonded, and insured professionals at Comfort Systems. A heating tune-up ensures your Mesa, Arizona, home can handle the vagaries of seasonal conditions by checking every component of your system. From your HVAC unit, furnace, or boiler to your thermostat, ductwork, and air filters, our NATE-certified professionals handle your maintenance needs and let you know if you need further repairs to get your system in optimal shape.
Schedule Tune-up
Process
Here's What a Heating Tune-Up Looks Like in Mesa, Arizona
Scheduling and Free Estimate

Whether everything's running smoothly with your system or you're noticing something a little off when you test it before the season, Comfort Experts can help with a free estimate when you call to schedule. Our heating tune-up optimizes every component in your HVAC system to improve system performance when temperatures dip, helping you save money on energy costs.

Courtesy Call

When our NATE-certified professionals provide your heating tune-up, they also inspect your system thoroughly. This process helps them identify any issues causing problems in the present, plus those likely to cause issues down the road. When we discover problems that require repair or replacement, we offer fair, upfront pricing and a 100% satisfaction guarantee for extra peace of mind.

Stress-Free Service

At Comfort Experts, we strive to deliver the best customer service possible, with excellent response times, including convenient same-day service. We don't charge for service calls when you require a repair, and we offer customized financing options when you need repairs or a heating system replacement on a budget.

Share Your Experience With Us

Whether you're satisfied with your service like over 100 other reviewers or think we should do some things a little better, we'd love to hear from you after your heating tune-up. Share your experience with Comfort Experts so we can better improve our HVAC services going forward.
Schedule Heating Tune-up
Customer Testimonial
I hope they maintain this level of service, I'd like to stay with them forever.
"For many years, I struggled to find an HVAC provider that was honest, reliable, and affordable. I've mostly worked with Ryan (the owner) and he's been great so far. I use Comfort Experts for both my home and business, they've always been on time and done good work. I had one minor issue with some ductwork they installed last year, but they came back out and fixed it with no further problems. I hope they maintain this level of service; I'd like to stay with them forever."

—Tim W. | Phoenix, AZ
See why we're rated 4.9 out of 5 on Google.
Comfort Club
Make Your Annual Tune‑Up Even Easier: Join the Comfort Club!
The Comfort Club is your golden ticket to some serious HVAC savings. You'll see all the savings from our standard tune-ups, plus a lot of great perks that you'll wonder how you ever lived without!
Here's what you'll get when you join Comfort Experts' Comfort Club:
Semi-annual maintenance (cooling AND heating tune-ups)
Front-of-the-line priority service
10% discount on parts, repairs, and ductwork services
$130 credit toward a new system for each year you're a member (up to $650)
Filter replacements four times a year (high-end Merv-8 filters)
Transfer options are available if you're moving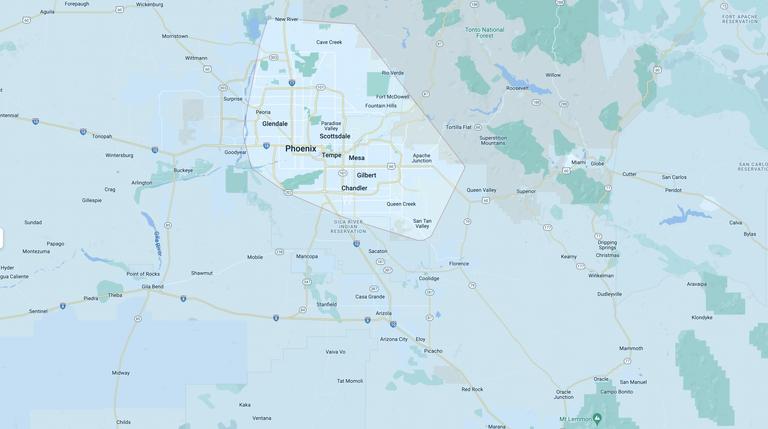 Service Area
Serving Phoenix's East and West Valleys Since 2011
Comfort Experts has offices in Mesa, AZ, and Gilbert, AZ, and assists customers across the entire Valley of the Sun. We're open Monday through Saturday, from 7:00 AM to 7:00 PM. Don't hesitate to call us if you're having a heating or cooling emergency outside of office hours.
We service these cities in Phoenix and others close by:

See our service area
Ready to Schedule Your Free Estimate with Comfort Experts?