Thermostat Installation in Mesa, AZ
The East Valley's Thermostat Experts Since 2011
If you're in the market for a replacement thermostat, your friends at Comfort Experts are just the ones to install it for you. We offer a wide range of thermostats, including the latest programmable and smart thermostats, and can help you make sense of your options. Even better, we'll have your new thermostat installed in a day or less. Call today and see what makes Comfort Experts one of the most popular HVAC contractors in the Valley!
Smart home thermostats available
Convenient same-day service
Fast response times
On this page
Service Details
Professional thermostat installations at honest and affordable prices
What makes Comfort Experts the go-to choice for thermostat installations in the Mesa and Gilbert areas? For one, we've been around for a long time. Since 2011, in fact! We've installed thousands of thermostats since then, so you could say we're one of the most experienced installers in the state. In addition, we offer fast response times and equally fast installation times. You get your new thermostat faster when you choose us, plain and simple. Last but not least, we have a huge selection of thermostats to choose from. Want to browse the latest smart thermostats? Looking for something more traditional? We've got plenty of both!
Price
What factors affect the cost of your thermostat installation?
Thermostat Brand and Model: With a multitude of thermostat brands and models available, homeowners face a bewildering number of options to choose from. Fortunately, Comfort Experts simplifies this by selecting the most popular thermostats for our customers and helping them navigate their differences up front, without any slimy sales pitches.
Electrical Adjustments: Upgrading to a new smart thermostat, complete with a connected sensor, may require adjustments to your home's electrical wiring. Count on Comfort Experts' skilled technicians to seamlessly handle these modifications, ensuring a hassle-free experience for you.
Install your thermostat with Comfort Experts and the price of your diagnostic is FREE.
The diagnostic is the first step toward identifying your thermostat objectives. At Comfort Experts, that diagnostic visit is just $69.99. That's on the lower end of diagnostic fees within the industry. But to add even more value to your service, we'll waive the diagnostic charge completely when you install your new thermostat with us.
Schedule Installation
Process
Here's what a thermostat installation looks like with Comfort Experts
We'll send a licensed expert to share thermostat options

Our certified technician arrives to present thermostat choices tailored to your needs, ensuring a well-informed decision. This process can take as long as you need, no rush! We want what's best for our customers and will answer all of your questions along the way.

You'll choose the system you want, and we'll price it for you

Select your preferred system, and we'll provide a clear and upfront price for the work, removing any guesswork from the process. This quote will also be fixed price, meaning that if we go past the time we expected the installation to take, we won't charge you a penny more than we said we would.

We'll install the new system in no time and answer any questions

A swift installation by our skilled team follows, with ample time for addressing any last questions you may have, ensuring your comfort and satisfaction. We leave nothing to chance during your installation and thoroughly test the new thermostat before we leave.
Schedule Installation
Customer Testimonial
I would highly recommend Comfort Experts…
"Ryan was very honest and informative on the service call at my house. Not only were they quick to respond and arrive, but he also explained everything very thoroughly and answered all of my questions (and I had a lot!). He fixed the problem during the service call and helped make the process very easy and as cost-effective as possible. I would highly recommend Comfort Experts for any air conditioning questions and needs!"

—Lindsay B. | Phoenix, AZ
See why we're rated 4.9 out of 5 on Google.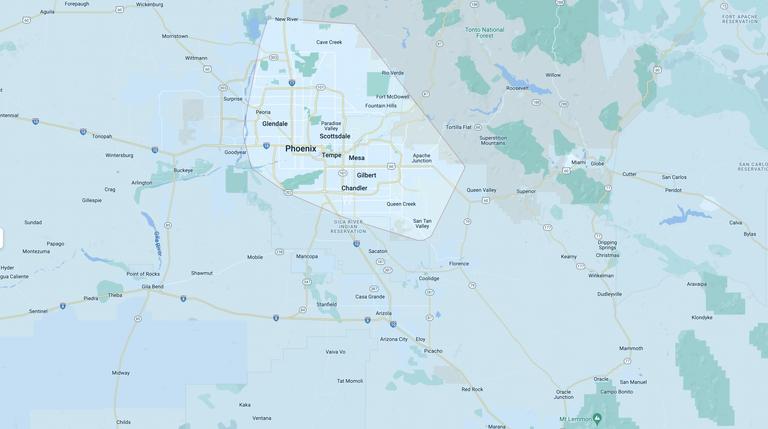 Service Area
Serving Phoenix's East and West Valleys Since 2011
Comfort Experts has offices in Mesa, AZ, and Gilbert, AZ, and assists customers across the entire Valley of the Sun. We're open Monday through Saturday, from 7:00 AM to 7:00 PM. Don't hesitate to call us if you're having a heating or cooling emergency outside of office hours.
We service these cities in Phoenix and others close by:

See our service area
Request a Thermostat Installation with Comfort Experts Today