Furnace Repair in Mesa, AZ
Phoenix's Fair‑Price Leader for Furnace Repairs
Furnace on the fritz? Call Comfort Experts and we'll resolve your issue at a fair and honest price. We'll never sell you a part or push a replacement if you don't need one. And we'll even waive your diagnostic fee when you repair with us. Comfort Experts services the whole Phoenix Valley. And we're even open on Saturdays for your convenience.
Diagnostic fee waived with repair
Convenient same-day service
2-year workmanship warranty
On this page
Service Details
Professional furnace repairs at honest and affordable prices
Comfort Experts is here for all your furnace repair needs. So when you give us a call, you can assume we can resolve any issue you're having, regardless of the furnace brand or model you own. Our technicians undergo regular training from leading furnace manufacturers nationwide, ensuring the best possible repair, every time. We've optimized the repair process for our customers with a combination of seamless appointment booking, text reminders, and same-day service for most repairs. Additionally, we've expanded our coverage to include a more extensive area of Phoenix and its surrounding communities. All our technicians are licensed, insured, and NATE-certified, and we proudly offer a solid 2-year labor warranty on all repairs—among the best in the industry.
Price
What factors affect the cost of your furnace repair?
Replacement parts: Damaged parts are common causes of furnace problems. And some of those parts are more expensive to replace than others. It's hard to tell what kind of part will need to be replaced (or whether you'll even need a spare part) until we take a look at the system. At Comfort Experts, our priority is to fix the existing component before recommending a new one, helping our customers save money on repairs.
Warranty status: Your furnace may be safeguarded by a parts warranty, labor warranty, or both. These warranties protect homeowners from bearing repair costs upfront. Considering how expensive certain repairs can be, it's hugely beneficial to have warranties in place! If you're uncertain about your coverage, don't fret. We can find out for you.
Choice of contractor: The expense of air conditioner repairs may fluctuate depending on a contractor's skills, experience, and other aspects. Opting for the cheapest service might seem appealing, but it can cause issues in the long run. A licensed contractor like Comfort Experts is generally the wiser choice, guaranteeing an excellent repair at the most competitive price.
Repair your furnace with Comfort Experts and the price of your diagnostic is FREE.
The diagnostic is the first step toward uncovering what's wrong with your furnace. At Comfort Experts, that diagnostic visit costs just $69.99. That's on the lower end of diagnostic fees within the industry. But to add even more value to your repair, we'll waive the diagnostic charge completely when you resolve your repair with us.
Schedule repair
Process
Here's what a furnace repair looks like with Comfort Experts
You'll receive a professional diagnostic by a licensed technician

Scheduling a repair diagnostic with Comfort Experts is simple: either book online or give us a call. Once your appointment is set, you can anticipate your technician's arrival within the specified 4-hour time frame. They'll even send text updates to inform you when they're en route. Upon arrival, your technician will conduct a comprehensive diagnostic of your furnace to identify the root cause of the issue.

You'll get the best deal possible on your repair

At Comfort Experts, our priority is to find cost-saving solutions for your furnace repairs. If it's possible to fix a component rather than replace it, we'll make that happen. Should the repair expenses become burdensome, we can offer financing assistance. Moreover, if you proceed with the repair, we'll waive the diagnostic fee. Rest assured, we'll never attempt to sell you a part that isn't necessary for your system.

You'll receive a furnace repair at the highest professionals standards

Our technicians go above and beyond to ensure homeowners receive dependable furnace repairs. With experience working on virtually every furnace brand and model, you'll never have to worry about a false start or a slower repair than necessary. Furthermore, our team goes above and beyond to protect your home by laying down drop cloths and cleaning up our work site before we leave.

You'll enjoy the best post-repair warranties in Phoenix

When you choose Comfort Experts for your furnace repairs, you'll receive some of the best post-service protections in the state, up to 2 years in fact! Additionally, our 100% Satisfaction Warranty offers even more protection for your repair. If any issues arise after we've completed the job, simply contact our team, and we'll return to address the problem.
Schedule repair
Customer Testimonial
I highly recommend Comfort Experts!
"The technician was very professional, very speedy, and explained every aspect of what was wrong with the unit. He also shared why it was good to replace this 16-year-old unit, not to throw good money after bad. I highly recommend Comfort Experts!"

—Jan G. | Phoenix
See why we're rated 4.9 out of 5 on Google.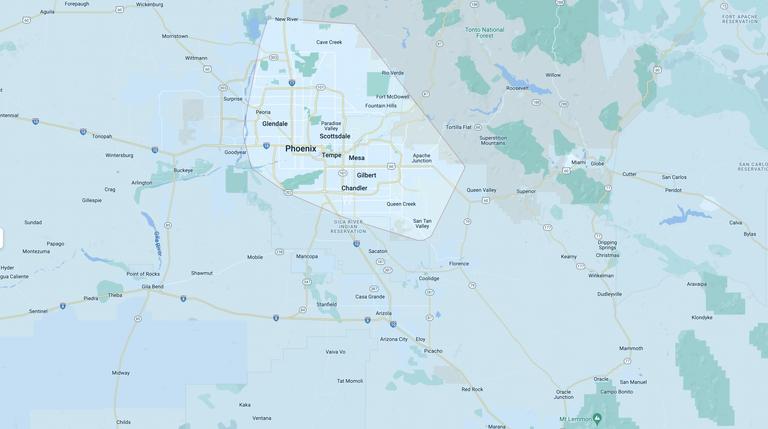 Service Area
Serving Phoenix's East and West Valleys Since 2011
Comfort Experts has offices in Mesa, AZ, and Gilbert, AZ, and assists customers across the entire Valley of the Sun. We're open Monday through Saturday, from 7:00 AM to 7:00 PM. Don't hesitate to call us if you're having a heating or cooling emergency outside of office hours.
We service these cities in Phoenix and others close by:

See our service area
Request a Furnace Repair Diagnostic with Comfort Experts Today.