Ductless AC Repair in Mesa, AZ
Expert Ductless AC Repair Services
When you need expert ductless AC repair services, Comfort Experts is here to help. Our highly skilled technicians have the knowledge and experience to diagnose and fix any issues with your ductless AC system. Whether it's a malfunctioning unit, poor cooling performance, strange noises, or any other problem, we've got you covered. We understand the importance of a reliable and efficient cooling system, especially in the hot Arizona climate. That's why we respond quickly to your repair needs, providing timely and effective solutions to get your ductless AC up and running again. With our commitment to exceptional service and customer satisfaction, you can trust us to restore comfort to your home or business. Schedule a ductless AC repair service with Comfort Experts today and experience our expertise firsthand.
Free in-home estimates
Customized financing options
Fair and competitive pricing
On this page
Service Details
Restore Comfort with Our Professional Ductless AC Repair
At Comfort Experts, we understand the importance of a properly functioning ductless AC system, especially in the Arizona heat. That's why we prioritize quick response times to your repair requests, so you don't have to suffer through extended periods without cooling. Our skilled technicians arrive promptly and are well-equipped to get the job done right the first time. We provide transparent cost estimates and detailed explanations of necessary repairs, keeping you informed throughout the process.
At Comfort Experts, we stand behind the quality of our workmanship. That's why we offer a warranty on our repair services, providing you with added peace of mind. If any issues arise after our repair, simply reach out to us, and we will make it right. Don't let a malfunctioning ductless AC system disrupt your comfort. Trust the experts at Comfort Experts for reliable and efficient ductless AC repair services.
Price
What factors affect the cost of your ductless AC repair?
Type and extent of the repair: The specific type and complexity of the repair needed will play a role in determining the cost. Minor repairs, such as replacing a faulty component or fixing a minor issue, may be less expensive than major repairs requiring extensive troubleshooting or component replacement.
Parts and materials: The cost of parts and materials required for the repair can vary depending on the specific make and model of your ductless AC system. Some components may be readily available and affordable, while others may be more specialized and expensive.
Warranty status: Your air conditioner may be protected by a part warranty, a labor warranty, or both. These warranties shield homeowners from incurring out-of-pocket expenses for repairs, making them highly beneficial. Unsure if you're covered? Don't worry. We can find out for you.
Age and condition of the system: Older ductless AC systems or units in poor condition may require more extensive repairs or a replacement of multiple components, which can impact the overall cost.
Repair your ductless AC with Comfort Experts, and your diagnostic price is FREE.
The diagnostic is the first step toward uncovering what's wrong with your air conditioner. At Comfort Experts, that diagnostic visit costs just $69.99. That's on the lower end of diagnostic fees within the industry. But to add more value to your repair, we'll waive the diagnostic charge completely when you resolve your repair with us.
Schedule Repair
Process
Here's what a ductless AC repair looks like with Comfort Experts
Professional diagnostic by licensed technicians

At Comfort Experts, scheduling a repair diagnostic is quick and easy. You can contact us online or over the phone, and we'll promptly confirm your appointment. Expect our licensed technician to arrive within a convenient 4-hour window, and we'll even keep you informed with text notifications about their arrival. Once on-site, our skilled technician will conduct a thorough diagnostic assessment of your ductless AC system to identify the root cause of the issue.

You'll get the best deal possible on your repair

We always strive to save you money without compromising on quality. Our expert technicians will explore all options to find the most cost-effective solution for your repair. If repairing a part is feasible instead of replacing it, we'll make it happen. In cases where the repair cost may seem overwhelming, we can offer financing assistance. Completing the repair with Comfort Experts also means we waive your diagnostic fee. Rest assured, we never push unnecessary part replacements – our focus is on providing honest and transparent service.

You'll receive an AC repair at the highest professionals standards

Our dedicated technicians go above and beyond to deliver reliable AC repairs that exceed your expectations. With vast experience working on various AC brands and models, our experts are well-equipped to tackle any repair challenge. We meticulously test each repair to ensure it has been completed with precision and accuracy. Furthermore, we take extra precautions to protect your home, including using drop cloths to safeguard the work area and leaving your premises clean and tidy.

You'll enjoy the best post-repair warranties in Phoenix

Comfort Experts takes pride in its exceptional first-time fix rates for air conditioners in Phoenix. We're so confident in the quality of our repairs that we offer extended labor warranties, surpassing industry standards. Enjoy the peace of mind that comes with our labor warranties of up to 2 years on repairs. And that's not all – our commitment to your satisfaction extends to our comprehensive 100% Satisfaction Guarantee, covering all aspects of your repair experience.
Schedule Ductless AC Repair
Customer Testimonial
Very happy with the whole process!
"Had my A/C go out over night and called Comfort Experts the following morning since they said they could be out that morning Friday morning. Dakota was at my door within a couple of hours of my call. Unfortunately, I needed a new A/C or fix a 11-year-old compressor. Decided to upgrade to a new A/C. Received my new A/C as promised at 6:30 a.m. Monday morning. 3 hours later they were finished and I also got a new Ecobee wifi smart thermostat which is so cool. Even changed out the old air return and filter. Very happy with the whole process!"

—Vince M. | Phoenix
See why we're rated 4.9 out of 5 on Google.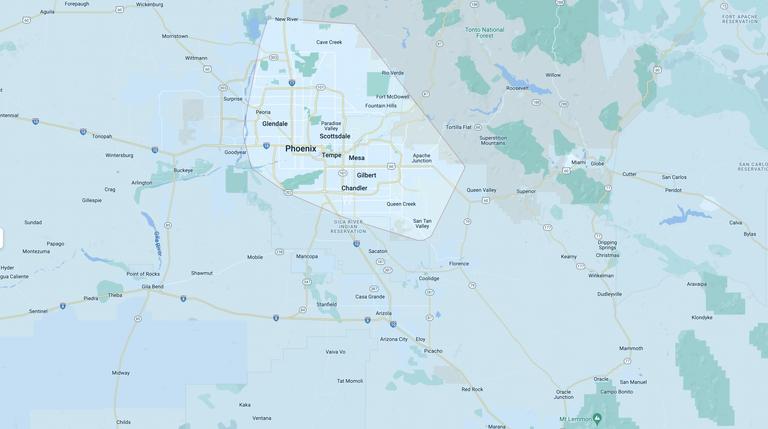 Service Area
Serving Phoenix's East and West Valleys Since 2011
Comfort Experts has offices in Mesa, AZ, and Gilbert, AZ, and assists customers across the entire Valley of the Sun. We're open Monday through Saturday, from 7:00 AM to 7:00 PM. Don't hesitate to call us if you're having a heating or cooling emergency outside of office hours.
We service these cities in Phoenix and others close by:

See our service area
Request a Ductless AC Repair Diagnostic with Comfort Experts Today.