Duct Cleaning In Mesa, AZ
For the Cleanest Ducts on the Block, Call Comfort Experts
You probably don't think about your ductwork often. But if it's been years since you've had them cleaned, chances are they could use one. The wind kicks up all sorts of pollen and air pollutants in the valley, and a lot of it finds its way into your ducts. The good news? Comfort Experts will thoroughly clean your ducts in just an hour or two without ANY mess. It's affordable, simple, and, yes, safe. No nasty cleaning chemicals. Just cleaner ducts and healthier indoor air.
100% locally owned and operated - no private equity influence
Convenient same-day service
Fast response times
On this page
Service Details
Professional duct cleaning services at affordable prices
Our meticulous duct cleaning service is designed to make your indoor environment cleaner and healthier. We use state-of-the-art equipment, including powerful HEPA-filtered vacuum systems and specialized tools to eliminate dust, debris, allergens, and contaminants from your ductwork. Our highly trained technicians carefully access and clean the entire system, ensuring no particle is left behind. The final result is cleaner ducts that improve your indoor air quality and your HVAC system's efficiency. Call us today and see for yourself. We are local, honest, and care about your home like any good neighbor would.
Price
What factors affect the cost of your duct cleaning?
Size of duct network: Larger homes with more rooms have larger duct networks and more vents. As home size increases, so does the cost to clean the system. At Comfort Experts, we focus on being thorough and meticulous. We promise that no matter the size of your home, the job will always be completed at the highest standards.
Repairs, if necessary: If we notice a problem with your ductwork during our initial diagnostic, we want you to know about it. Holes or unsealed areas of the duct network can cost you a fortune in lost conditioned air. If you choose to resolve the repairs with us, it will increase the overall cost of the cleaning. That said, we promise you'll see dividends thanks to how much lower your energy bills will be!
Duct accessibility: If your ducts are difficult to access, it may increase the time it takes to reach them and, in turn, the overall cost of the project. Our pros are very knowledgeable when it comes to accessing ductwork, so this shouldn't play too large of a role in the overall labor cost of the job.
Clean your ducts with Comfort Experts and the price of your diagnostic is FREE.
A diagnostic is the first step toward cleaner ductwork and healthier air quality. At Comfort Experts, that diagnostic visit costs just $69.99. That's on the lower end of diagnostic fees within the industry. But to add even more value to your duct cleaning, we'll waive the diagnostic charge completely when you choose us to complete the job.
Schedule Cleaning
Process
Here's what duct cleaning looks like with Comfort Experts:
Request your duct cleaning service

Scheduling a duct cleaning with Comfort Experts is simple: book online or call us. Once your appointment is set, you can anticipate your technician's arrival within the specified 4-hour time frame. They'll even send text updates to inform you when they're en route.

Get an upfront, fixed-price quote

A technician from Comfort Experts will perform a complete end-to-end inspection of your home's ductwork. The goal here isn't just to review the inside and outside of the ducts to ensure everything is sealed up tight and no mold growth is present. Once your technician is satisfied, they'll provide an upfront, fixed-price quote for the cleaning. Once you sign off on it, we'll get right to work!

Enjoy a professional duct cleaning

Comfort Experts has been cleaning ducts in Mesa and the Phoenix Valley for a long time–since 2011, in fact! The result of all that experience is better outcomes for our customers. We use the most advanced negative-pressure duct cleaning techniques and rotary brushes to break up the dirt and debris first. We follow that up with a powerful HEPA-grade vacuum system to remove any remaining contaminants. The end result is an immaculately clean duct system, guaranteed.
Schedule Cleaning
Customer Testimonial
I won't hesitate to refer to friends and family.
"Great experience from start to finish. Competitive price, excellent communication, and very professional. Be sure to give Ryan and his crew a chance to earn your business. I won't hesitate to refer to friends and family."

—Michael I. | Phoenix homeowner
See why we're rated 4.9 out of 5 on Google.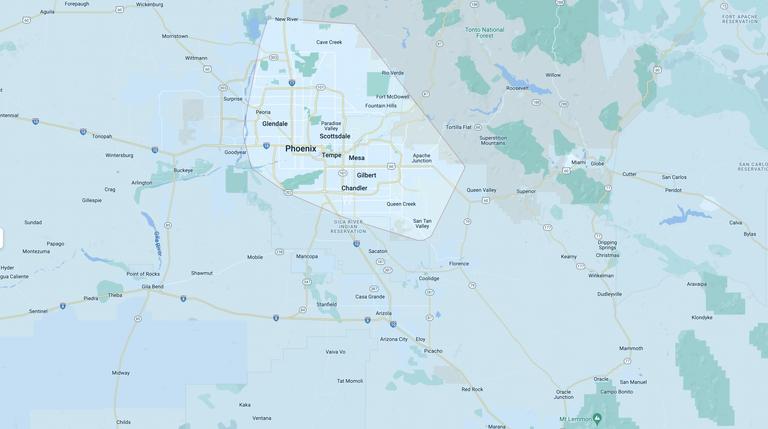 Service Area
Serving Phoenix's East and West Valleys Since 2011
Comfort Experts has offices in Mesa, AZ, and Gilbert, AZ, and assists customers across the entire Valley of the Sun. We're open Monday through Saturday, from 7:00 AM to 7:00 PM. Don't hesitate to call us if you're having a heating or cooling emergency outside of office hours.
We service these cities in Phoenix and others close by:

See our service area
Request a Duct Cleaning with Comfort Experts Today