AC Maintenance and Tune-Ups in Mesa, AZ
Protect Your System and Stay Cool with an AC Tune‑Up
One tune-up a year is proven to lower energy bills, extend AC lifespans, and prevent surprise breakdowns during the hottest part of the year. Comfort Experts will tune-up any AC system you've got, whether it's a central AC, a heat pump, or a mini-split. That includes every brand and every model! You'll also enjoy an honest assessment of your system. In other words, we will never try to sell you a part you don't need, and you'll always receive a straight answer from our NATE-certified professionals.
NATE-certified professionals
Convenient same-day service
Fast response times
On this page
Service Details
Professional AC tune‑ups at honest and affordable prices
Your air conditioner does its best to keep you cool in the summer. But it will go only so long without support, especially with the kind of heat that Mesa and Gilbert see on a daily basis. A single AC tune-up in the spring or early summer is all it takes to ensure uninterrupted system operation throughout the entire season. And when it comes to keeping AC systems humming, nobody puts more knowledge and skill into their work than Comfort Experts.
Price
What factors affect the cost of your AC tune-up?
Quality of the tune-up: Not all AC tune-ups are created equal. Some contractors put more care into their tune-ups than others. Comfort Experts prevents more surprise breakdowns than other contractors in the local area thanks to the quality of our AC tune-ups and the skill of our technicians.
Parts required (if any): A tune-up gives you, as a homeowner, more control over your air conditioner. In other words, if a technician discovers a problem part during a tune-up visit, you get to decide how to handle it. Some homeowners opt to hold off on these replacements. Others resolve the issue then and there to avoid any surprise breakdowns during the summer. Again, it's up to you. Rest assured, if we propose a replacement, it is always in your best interests to know about it.
Comfort Club advantage: Enrolling in our maintenance plan presents opportunities for cost savings during your AC tune-up. If you're a member, your tune-up is included in the cost. In addition, you'll enjoy 10% off on parts if you need them!
Enjoy a tune-up for $125 (or less!) at Comfort Experts
Comfort Experts will send a NATE-certified professional to perform a thorough AC tune-up for just $125. And by the way, we offer special pricing for our tune-ups quite regularly. So don't forget to check our coupon page from time to time and get the best price when we stop by for a visit!
Schedule Tune-up
Process
Here's what an AC tune-up looks like with Comfort Experts
You'll receive a thorough system tune-up and cleaning

Request your AC tune-up with Comfort Experts in two ways: online, or over the phone. We'll get something locked in the books and you'll be all set for tune-up day. The tune-up process itself takes just around an hour, and you're welcome to come along and watch your technician take excellent care of your AC system.

If repairs or spare parts are required, they're priced up front

Unrivaled in their precision, Comfort Experts' technicians surpass all others in the state when it comes to tune-ups. When your technician gives you a green light, that means your system's in great shape. You should have full confidence it'll get you through the rest of the year. Conversely, if any components raise concerns, your technician will let you know. That way, you can make the choice that's best for you.

Repairs will be completed the same day at the highest standards

If your system is in need of a replacement part or a repair, we've got you covered. In most cases, we can have your repair resolved during the same visit. We even have the most common parts in our truck, ready to go!
Schedule AC Tune-up
Customer Testimonial
Cannot say enough good things about Comfort Experts!
"Cannot say enough good things about Comfort Experts! Have been dealing with Ryan for years. He has saved us on multiple occasions when the AC went out mid-summer. Finally bought a new unit this year and was very impressed with the professionalism of Ryan and his crew. Very honest and reliable."

—Elizabeth H. | Phoenix, AZ
See why we're rated 4.9 out of 5 on Google.
Comfort Club
Make Your Annual Tune‑Up Even Easier: Join the Comfort Club!
The Comfort Club is your golden ticket to some serious HVAC savings. You'll see all the savings from our standard tune-ups, plus a lot of great perks that you'll wonder how you ever lived without!
Here's what you'll get when you join Comfort Experts' Comfort Club:
Semi-annual maintenance (cooling AND heating tune-ups)
Front-of-the-line priority service
10% discount on parts, repairs, and ductwork services
$130 credit toward a new system for each year you're a member (up to $650)
Filter replacements four times a year (high-end Merv-8 filters)
Transfer options are available if you're moving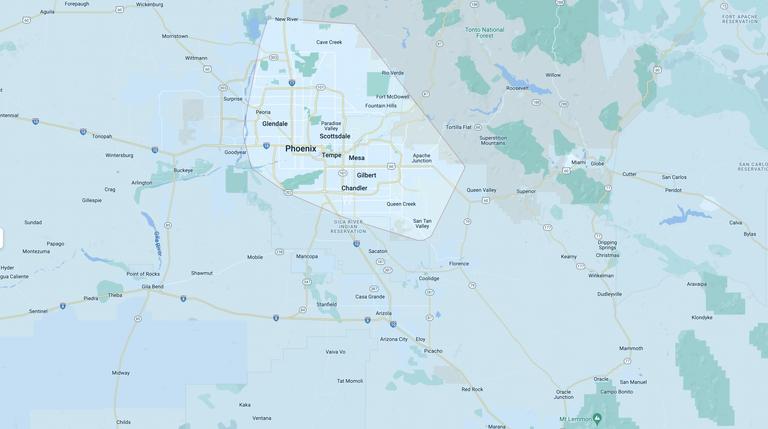 Service Area
Serving Phoenix's East and West Valleys Since 2011
Comfort Experts has offices in Mesa, AZ, and Gilbert, AZ, and assists customers across the entire Valley of the Sun. We're open Monday through Saturday, from 7:00 AM to 7:00 PM. Don't hesitate to call us if you're having a heating or cooling emergency outside of office hours.
We service these cities in Phoenix and others close by:

See our service area
Request an AC Tune‑Up with Comfort Experts Today